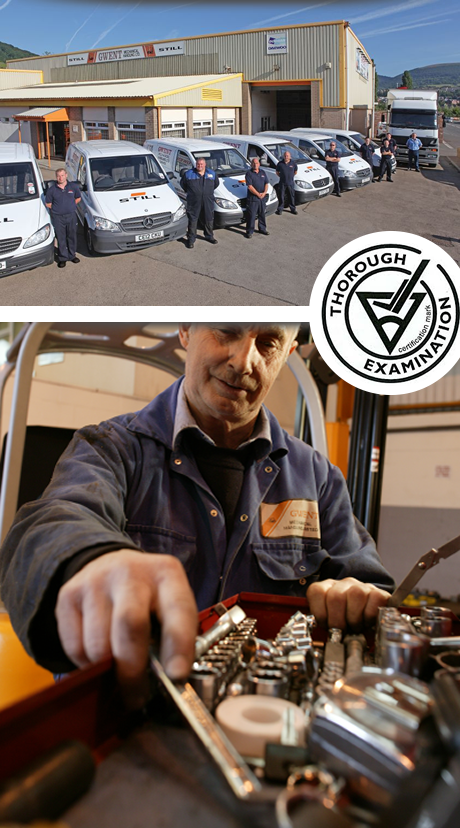 We Supply Quality Used Forklifts with Loler and Puwer certification
If you own or operate a fork lift truck, you are required by law to ensure that it holds a report of Thorough Examination. Failure to comply can leave you open to prosecution and could invalidate your insurance… or much worse in the case of a serious accident arising from faulty equipment. As you would expect, all of our used forklift trucks come with a full LOLER / PUWER Certificate as standard.
What is Thorough Examination?
A Thorough Examination is essentially a forklift truck version of an MOT for a car. It is a detailed inspection of all the safety related parts of a fork lift truck. In many ways it is more complex than the MOT for a car. In addition to the brakes, steering, tyres etc. being checked under PUWER 98, all the lifting components, hydraulics, chains, forks etc. are inspected in accordance with LOLER 98.
The regulations apply to fork lift trucks that are one year old or more which encompasses almost every used forklift for sale in the UK! From the one year point onwards, a Thorough Examination is required at least once every 12 months. In some instances a truck will need to have a Thorough Examination more frequently. If you are in any doubt the please contact us for some expert advice and benefit from our many years experience of undertaking thousands of thorough examination inspections. You really shouldn't be purchasing a used forklift without a full LOLER / PUWER Certificate!
Generally speaking the employer of the operator of the fork lift truck (the owner or user) is responsible for ensuring that Thorough Examinations are carried out on time by a Competent Person. Records must be kept.
What is inspected?
A Thorough Examination is the inspection of lifting equipment, as required by LOLER 98, and other safety related components or equipment, as required by PUWER 98. A Competent Person is required to examine these items, check them for serviceability and report accordingly. It is not a full maintenance inspection of the truck. A Thorough Examination is substantially different from a maintenance inspection and the Competent Person has different duties to fulfill under the law.
Although a Thorough Examination covers both regulations, it is a single examination.
Who can carry them out?
The LOLER 98 and PUWER 98 regulations simply require that a Thorough Examination is carried out by a Competent Person. As a practical guide the following are likely to be able to carry out a Thorough Examination on a fork lift truck:
An experienced fork lift truck engineer
A specialist inspector working for an insurance company or equipment inspection company
It is worth noting that an "insurance inspection" is not necessarily a Though Examination and if you rely on such inspections you should make sure you receive a document headed "Report of Thorough Examination".
Our team of engineers have received extensive technical training and experience of thousands of thorough examinations.
How often is it required?
The regulations require routine Thorough Examination on a periodic basis. These guidelines have been issued to HSE Inspectors. There is also a requirement to have a Thorough Examination if the forklift truck has been involved in a major incident or if it has had significant repairs or renovation.
| | |
| --- | --- |
| Minimum Interval Between Examinations | Operating Circumstances |
| 6 months | Any truck working up to 40 hours per week, without attachments other than a sideshift. (Mandatory) |
| 6 months | Any truck used for elevating persons, no matter how infrequent. (Mandatory) |
| 6 months | Any truck working between 40 and 80 hours per week |
| 6 months | Any attachment not permanently fitted to a truck |
| 4 months | Any truck working in excess of 80 hours per week. |
| 4 months | Any truck working in arduous conditions such as: |
| | Marine environments Corrosive chemical environments Metal manufacturing or processing Cement/aggregate processing, or where abrasive particles are present Brine processes |
| | Note: When an attachment is permanently fitted to a truck the attachment will be Thoroughly Examined as though it were part of that truck, at the same time interval as that truck. |
What about my Hand Pallet Trucks?
Hand pallet trucks and low lift trucks (i.e. non-stacking powered trucks with forks or a load platform that lifts up to 500mm from the ground, including those with an operator platform that elevates up to 900mm from the ground) do not require Thorough Examination.
However, in order to comply with PUWER 98, these types of equipment still require a formal safety inspection at least once per year. The results of such inspections should be recorded and records retained for future reference. There is no set format for such records and the standard inspection sheet used by a fork truck maintenance company should be quite adequate. It would not be wrong to use a Report of Thorough Examination if nothing else suitable was available.

What if my equipment doesn't pass?
At the time of the Thorough Examination the Competent Person will make a report. On the report he will list any defects he has found.
If there are no defects then the fork lift truck can continue in use. With defects that do not create imminent risk a timescale may be given within which the faults must be rectified. The defects must be rectified within this period, but meanwhile the equipment may continue in use. Alternatively, the equipment may be taken out of use until the faults have been rectified. The Competent Person will check that the defects have been rectified, within the given period, at the time of the next Thorough Examination. Where there is a defect that could imminently be of danger to persons, the Competent Person may recommend that the equipment cannot be used until the fault has been rectified. In these circumstances the equipment must be taken out of use immediately. It may not be used again until the defect has been rectified.
Our team of engineers have experience of thousands of Thorough Examination Inspections across the UK. All of our Used Forklifts come with a full LOLER / PUWER Certificate of Thorough Examination. Would you really expect anything less?