PLEASE CONTACT US FOR A PRICE
We have a number of used and fully refurbished Still FMX Reach Trucks available.
This particular one is a Used Still FMX 14. The refurbished trucks will have been brought back to what is essentially the original factory condition, in our award winning workshops and will have undergone a full bare metal re-spray, come with new tyres, seat, chains, 12 month Certificate of Thorough Examination (LOLER / PUWER) and a 12 month warranty. You really must see the outstanding quality of these reach trucks.
Forklift Specification:
Used Still FMX 14 1.0t - 2.0t Electric Reach Truck
Mast heights up to 13 metres
Various capacities, but 1,400kg is the most common.
Active Load Stabilisation
48v 3 phase drive
Footplates
Flashing Warning beacon
Reversing audible reverse warning and lamp
Adaptable seats
The large step and handle make it safe and easy to get in
Extremely safe to drive round bends with curve speed control depending on steering angle
Blue-Q efficiency module saves up to 10 % energy at the press of a button with no loss of performance
The Used Still FMX 14 is world renowned and is used by some of the world's most famous companies. Thanks to active load stabilisation (ALS) you can deal with the next goods transport while others would still be waiting for the mast to stop vibrating. An automatic equalising pulse provides a fast and effective way of stopping the vibrations from occurring at great heights, reducing the waiting time at the shelf by up to 80 per cent. The result is a significant increase in turnaround speed.
Furthermore, the available storage space can be used more efficiently with the FM-X than ever before; the high residual load capacity means that the reach truck can lift loads of up to 1,000 kg to an incredible height of 13 metres.
This Used Still FMX 14 is ideal for warehouses and workshops, these superb German built forklifts are just about unbeatable for low running costs and reliability.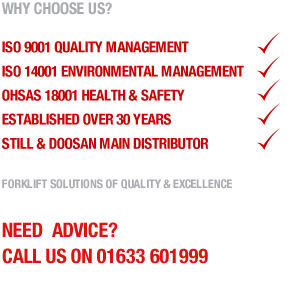 FIND OUT MORE ABOUT THIS FORKLIFT