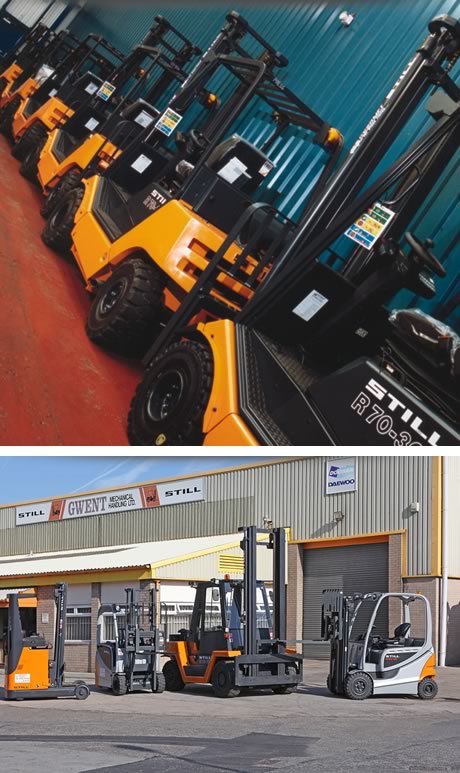 Thinking of buying a used forklift? Our Used Forklift Guide will help you make the best decisions when purchasing a Used Forklift
There are a lot of considerations when purchasing industrial equipment such as a used forklift and certain critical criteria that should be taken into account to prevent a costly mistake or potentially more serious consequences. You need to be confident that you are purchasing the right forklift from the right company.
Am I purchasing the correct forklift?
Our Used Forklift Guide covers:-
The make of the used forklift
Your application
The used forklift supplier
As with cars, not all used forklifts are equal. Some are of a far higher quality than others and will age considerably better. For example, are you buying a high quality German manufactured forklift or a cheaper Chinese manufactured forklift? When it comes to your application, the key considerations are the lifting capacity and type of forklift. Again to give examples, you wouldn't want to be using a diesel forklift in a small enclosed warehouse, or using a 1 tonne capacity forklift to try and lift 2 tonne loads. There are many different suppliers out there. Our advice is to buy from a well established, highly regarded main distributor or don't buy at all!
The Make of Used Forklift:
Choose a well-known manufacturer that has an established reputation for reliability; you can expect their fork trucks to have far fewer and less costly problems during ownership and to keep a higher resale value. Opting for a reputable manufacturer increases a truck's residual value and improves your ability to source parts and service easily in the long term. The majority of our used forklifts are German manufactured Still. They are the best there is.
For the actual forklift, make sure it has a CE mark on the forklift (which shows it's been approved for European Use), has an identity plate (with the manufacturer, capacity plate etc) in the correct language! and if it doesn't come with a full LOLER / PUWER Certificate of Thorough Examination, walk away.
Your Application:
For this, you may need some help. The best approach is to consult the supplier, who will advise you of which truck, capacity, mast type and power type is most suitable for your application. A good supplier should be able to provide you with expert advice and a forklift which suits your particular application needs. This may mean a site survey by the supplier or an extended telephone conversation. There are key considerations including the load capacity, is a gas, diesel or electric forklift the most suitable? what mast height do you need? are you unloading from containers (a container spec forklift would be required), how powerful do you need the forklift to be? do you need any specialist attachments? what safety features do you need? audible reverse warning? do you need solid or pneumatic tyres?  When quoting used trucks, some suppliers will quote based on what they hold in stock rather than trucks specifically suited to your application. By contrast a main dealer should source the optimal forklift truck for your operation.

The Used Forklift Supplier
Just as your truck should be reliable, so should your supplier. To find those best suited to the needs of you and your business, always choose a reputable supplier who is ideally also a main distributor and with years of expertise. The key point about choosing a main distributor is that they can service, repair and obtain spare parts quickly and easily. They are going to be part of a Network and wherever your forklift location, will either service and repair it themselves or arrange for a local distributor to do so.
For added protection, select a supplier who has ISO and OHSAS accreditations and are a member of a trade body such as the Fork Lift Truck Association. These are key indicators of the integrity and standards of customer service.

Are you thinking of buying a used forklift online?
Don't is our advice! Consider what we have said above. It's not like buying a book from Amazon. There are a lot of important considerations. Do not get into to making a decision on a used forklift or supplier that you are not confident with, or are sure has been tested or inspected. Forklift trucks are usually essential pieces of industrial equipment and invariably a business will be heavily dependent on the reliability and performance of the machine to ensure that their operation runs to the best of its capabilities. Ideally you need to have spoken with your supplier on a number of occasions, have been given sound advice and are comfortable with them supplying or sourcing your used forklift. Pay them electronically by all means, but we certainly wouldn't advise buying a forklift online.
How can we help?
Buying one of our used forklift truck is the most risk-free way you can purchase a cost effective and dependable machine.
We only supply used forklifts which meet our exacting standards and which we are proud to put our name to. All of our trucks are prepared by experienced and trained engineers in our custom built workshops to the manufacturer's guidelines to ensure reliability and optimum performance of the forklift.
Established almost 30 years ago, we have achieved many awards for quality and business excellence, including the following internationally recognised accreditations:
The Quality Standard ISO 9001
The Environmental Standard ISO 14001
The Occupational Health and Safety Standard OHSAS 18001
In addition to these, we are the Still and Doosan main distributor, have won numerous Still and Doosan forklift dealer awards, the prestigious Investors in People Award and are also members of the Fork Lift Truck Association (FLTA) and the British Industrial Truck Association (BITA).
Dealing with us, wherever you are in the UK means no compromise on quality, whether it be our forklifts, the service you receive from us or value for money.
It's all about Standards!
Hopefully our Used Forklift Guide has been helpful, however, if you still require some advice, please feel free to contact us and arrange a chat with one of our experts