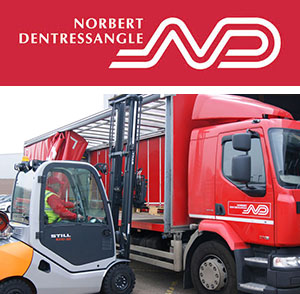 As part of its commitment to driving down the environmental footprint of its supply chain, Norbert Dentressangle is replacing 40 forklift trucks during 2013-14 with the award winning Still RX 70 hybrid drive model, that on average reduces fuel consumption by over 35%!!
Following trials last year, the company has already taken delivery of 11 RX70 Hybrid Drive LPG gas forklifts that offer lower energy consumption and reduced CO2 emissions. The trucks are supplied on a five-year contract hire option.
As part of the replacement process, Norbert Dentressangle reviewed a number of materials handling equipment manufacturers against a "Whole Life Cost Model". This looked at fuel cost, on-going maintenance, environmental impact, tyre replacement costs, general reliability, parts pricing, response times (to ensure minimum downtime), effective fleet utilisation, and continuous improvement opportunities.
Simon Tebbs, procurement business partner at Norbert Dentressangle Transport Services, said:
"The initial trials demonstrated that the RX70 hybrid drive trucks would deliver a significant business improvement with an average 35% reduction in fuel consumption and, depending on use, some even saw a drop of almost 50%. The outgoing trucks use 5.4 litres of fuel per hour, whereas the new model uses 2.4 litres per hour, when measured against industry VDI 2198 Standard."
A number of Gwent Mechanical Handling Customers have achieved similar fuel savings with the RX 70.
As well as reducing emissions, the new materials handling equipment is more ergonomically designed and has a number of built-in safety features. Operators of the trial units praised the efficiency and ease of use. With one-pedal operation, the new forklifts provide lower driver fatigue, a smoother ride due to cushioned cab and seat, and lower noise output in comparison with current trucks.
Mike Bridges, managing director of Norbert Dentressangle Transport Services, commented: "The new hybrid fork lift trucks demonstrate our continued commitment to looking at all areas of the supply chain as we aim to improve our operational efficiency to support customers and minimise our environmental impact."