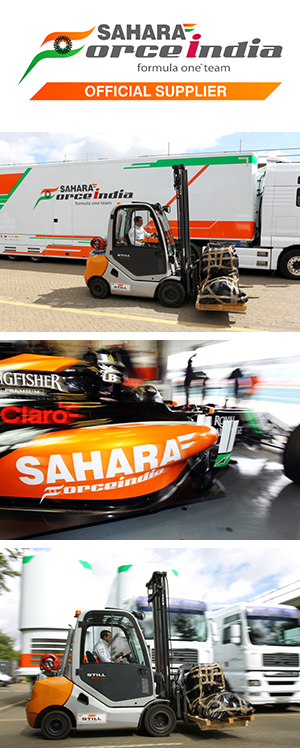 Recently STILL have delivered new high lift pallet trucks (EXV-12 & EGV-16) which are based in the pattern shop at the Sahara Force India wind tunnel. The pattern shop is the starting point for all the carbon fibre components on the car with tooling block being used to produce patterns and moulds onto which the carbon fibres are applied. Additionally, STILL's RX50 and RX70 trucks are used in the Formula One factory to help pack the freight boxes for races and tests, and to assist with the general running of the factory day-to-day.
Keith Austin (Model Shop Manager – Sahara Force India F1 Team) commented:
"Earlier this year Sahara Force India took delivery of two large 5 axis CNC routers. These new machines are much larger and enable us to create bigger car patterns in-house. "We needed to find a way of moving the larger pieces of tooling block on and off the new machines safely. We posed this challenge to our suppliers at STILL and we are delighted to have received two new forklift trucks to help with these procedures."
Otmar Szafnauer (Chief Operating Officer – Sahara Force India F1 Team) also added:
"We are delighted to continue working with STILL and to benefit from their ever-improving product range. The most recent addition of the high lift pallet truck is already making a big difference at the wind tunnel. It's easy to operate and very manoeuvrable, which is ideal for the confined areas of a Formula One facility. Using these vehicles has helped us save time and improve efficiency."
The new high lift pallet trucks have already improved their operations at the wind tunnel, especially with the movement of large patterns. A number of RX 50 and the "super fuel efficient" Rx 70 Gas / LPG forklifts are already supporting the airfreight logistics to make sure that the team can move their equipment around the world with ease.
Sahara Force India are yet another Blue Chip organisation who choose to use Still Forklift Trucks, joining companies such as BMW, Heinz, Panasonic, Cadbury, Volvo and Coca Cola who are choosing Still Forklifts for the outstanding build quality, performance and low operating costs that the forklifts provide.