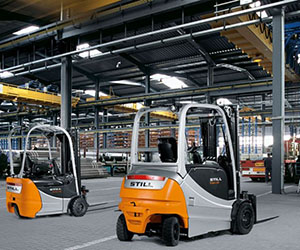 Yuasa batteries based in Ebbw Vale, South Wales have taken delivery of 5 Still RX 60's, 4 Still RX 50 electric forklifts and also 3 Still EGV electric powered pallet trucks from Gwent Mechanical Handling.
Yuasa are a long standing customer of Gwent Mechanical Handling and are the world's leading manufacturer and supplier of valve regulated lead acid batteries, with global manufacturing plants and an extensive marketing and distribution network throughout the UK and Europe.
The Yuasa battery range provides what is possibly the widest choice of types from a single source to meet most battery applications.
Tyron Williams, Purchasing Manager at Yusa says " I am delighted to continue with the excellent working relationship with Gwent Mechanical Handling Ltd as they are totally customer focussed, not only do their products and services live up to this aspiration, but the company does to.